2 Fat Guys Complete Automotive Service Center
Company Name: 2 Fat Guys Complete Automotive Service Center
Address:
107 Commerce Ave
Contact Branch Manager:
John Rivera
Web site:
http://www.the2fatguys.com
SIC code:
553199
Industry group:
AUTOMOTIVE DEALERS & SERVICE STATIONS
,
Business category:
AUTO & HOME SUPPLY STORES
,
Subcategory:
OTHERS AUTOMOTIVE DEALERS & SERVICE STATIONS
Gross Annual Sales (Revenue):
Unavailable
Overall:
2 Fat Guys Complete Automotive Service Center is a business categorized under auto & home supply stores, which is part of the larger category automotive dealers & service stations. 2 Fat Guys Complete Automotive Service Center is located at the address 107 Commerce Ave in Boerne, Texas 78006-3008. The Branch Manager is John Rivera who can be contacted at (830)249-2727.

Description:
Auto Repair,
Working hours:
Mon: 08:00 am - 07:00 pm, Tue: 08:00 am - 07:00 pm, Wed: 08:00 am - 07:00 pm, Thu: 08:00 am - 07:00 pm, Fri: 08:00 am - 07:00 pm, Sat: 08:00 am - 05:00 pm, Sun: Closed
Tags:
Auto repair shop
Auto air conditioning service
Auto body shop
Auto glass shop
Auto sunroof shop
Auto tune up service
Car repair and maintenance service
Chauffeur service
In summary:
This place was good when i first started taking my work vehicles to them.
They did extra work but couldn't honor any discount for it??
Alex stayed late so I could pick up after hours, thanks guys!
Recommended:
Click here to Inform about a mistake
22
Rating:
Location & access map for "2 Fat Guys Complete Automotive Service Center"
Photo from "2 Fat Guys Complete Automotive Service Center"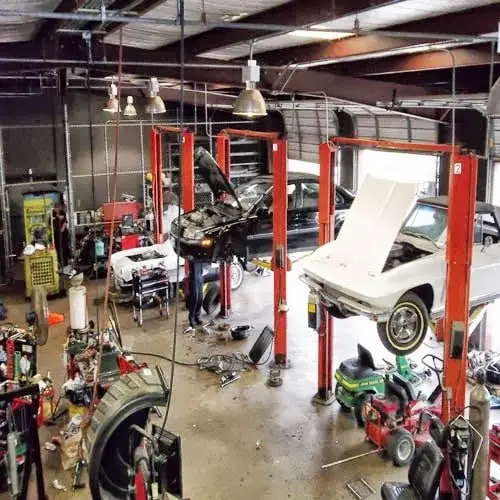 ---
2 Fat Guys Complete Automotive Service Center (Automotive, Motorcycle, Boat Dealers)

about:
Review/Comment
Name: C.C.
Message: Well I rolled into this place p I had two bad tires add two new ones in the car but all I had was 25 bucks mounting and balancing for one tire was 25 these guys did me a solid and did both of them and only charged me 25 they cut me some slack and it was the end of the day I really appreciated that I think they're awesome.
Name: A.
Message: Took a vehicle I was intending to purchase from a private owner to this location and they were able to assess the work needed on it very quickly, within the same day. Similar to my previous experience at their Helotes shop, they gave me a rundown of the necessary work which bridged the gap between their mechanical understanding and my very casual knowledge of the simplest things under the hood in a way that was phenomenally helpful. Between the speed of service, mechanical knowledge, helpful explanations, and accessible diagnostic costs, I heartily recommend this shop to anyone in need of auto work.
Name: G.M.
Message: Alternator went out on my car and was left stranded. 2 Fat guys was the only place opened at the time. Was able to get my car towed and dropped off the next morning. Alex was helpful and honest. He suggested that I get my car diagnosed and go from there. After telling me everything that was wrong with my vehicle and I only asking for specific work to be done Alex didn't push me or force me to go any further. They got my car done in a day! Stuff breaks down and life just throws a wrench at you from time to time but these guys helped me out.
Name: W.K.
Message: My 2009 Jeep Grand Cherokee needed struts and shocks. 2 Fat Guys gave me the best upfront quote, got me in right away and had it done before noon the next day with no unexpected charges. They also did a comprehensive check for free and found a few things I need to take care of (Jeep Dealer will charge $125 just to look at your car). Alex was great to work with and is a man of his word. This was my first experience with them. I'll be going back.