271 Wreckers
Company Name: 271 Wreckers
Address:
1825 East Broadway Avenue
Contact President:
John Shearer
SIC code:
552199
Industry group:
AUTOMOTIVE DEALERS & SERVICE STATIONS
,
Business category:
MOTOR VEHICLE DEALERS-USED ONLY
,
Subcategory:
OTHERS AUTOMOTIVE DEALERS & SERVICE STATIONS
Gross Annual Sales (Revenue):
Unavailable
Overall:
271 Wreckers is a business categorized under motor vehicle dealers-used only, which is part of the larger category automotive dealers & service stations. 271 Wreckers is located at the address 1825 East Broadway Avenue in Gladewater, Texas 75647-2503. The President is John Shearer who can be contacted at (903)845-4265.

Description:
Auto Parts & Supplies | Roadside Assistance,
Working hours:
Mon: 12:00 am - 12:00 am, Tue: 12:00 am - 12:00 am, Wed: 12:00 am - 12:00 am, Thu: 12:00 am - 12:00 am, Fri: 12:00 am - 12:00 am, Sat: 12:00 am - 12:00 am, Sun: 12:00 am - 12:00 am
In summary:
A great place to do business fast and reliable service with great employees.
I highly recommend utilizing their services for your towing needs!
Fast arrival time, reasonable rates, friendly and professional drivers.
Recommended:
Click here to Inform about a mistake
60
Rating:
Location & access map for "271 Wreckers"
Photo from "271 Wreckers"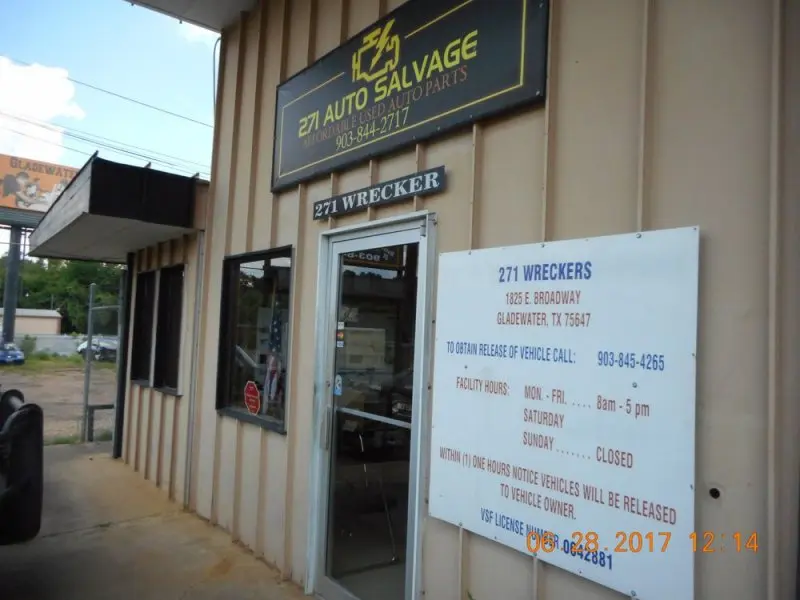 ---
271 Wreckers (Automotive, Motorcycle, Boat Dealers)

about:
Review/Comment
Name: B.W.
Message: Broke down on the side of the road on the way home. Very courteous over the phone. Reasonably priced. Prompt. They were there within 15 minutes. The guy who picked up my truck was very friendly and even totted me home a mile up the road before taking my truck to my mechanic. Would recommend to others.
Name: C.F.
Message: Very nice and honest people and very fast! I definitely recommend them!
Name: C.W.
Message: Robert was fast, courteous, and very helpful. Will use again if I'm blessed with such bad luck again. Lol.
Name: T.W.
Message: Robert Groves was awesome! Great guy who stayed with my Mama till the situation was under control. We appreciate you very much!
Name: J.C.
Message: Very friendly and as fast as possible! I had to split up my payment on different cards and even though it was time consuming, the gentleman did it without complaint. Good customer service!
Name: S.V.
Message: Car broke down in Gladewater, Robert was the driver who came out to help me. He was so quick in getting there. He was also so kind and professional. Got my car loaded up and to the repair shop very quickly. Would definitely use 271 Wreckers again if needed.
Name: A.K.
Message: 271 Wreckers were actually decent. The employee who was in the office at the time I picked up my vehicle whom I assume was the owner was in a way nice he did let me get my vehicle with the cash that I had on me at the time but attitude wise stunk. I understand that is how he makes a living but if he would work on his attitude this place would be a much nicer place. We aren't asking for rainbows and lollipops but just for a simple nice gesture like "Hello, " "have a good day" or maybe just look up at your customers with a simple smile to say "every thing is going to be alright. " I really think people have lost there touch with reality so much that they forgot that with just a simple Hello can make one hell of a difference to one person!
Name: L.L.
Message: I called them when my wheel came off my truck in Gladwater. He was there within minutes. Everyone we encountered in that town was wonderful!